160 patient rights advocates demand negotiation on health insurance as part of a "Build Back Better" package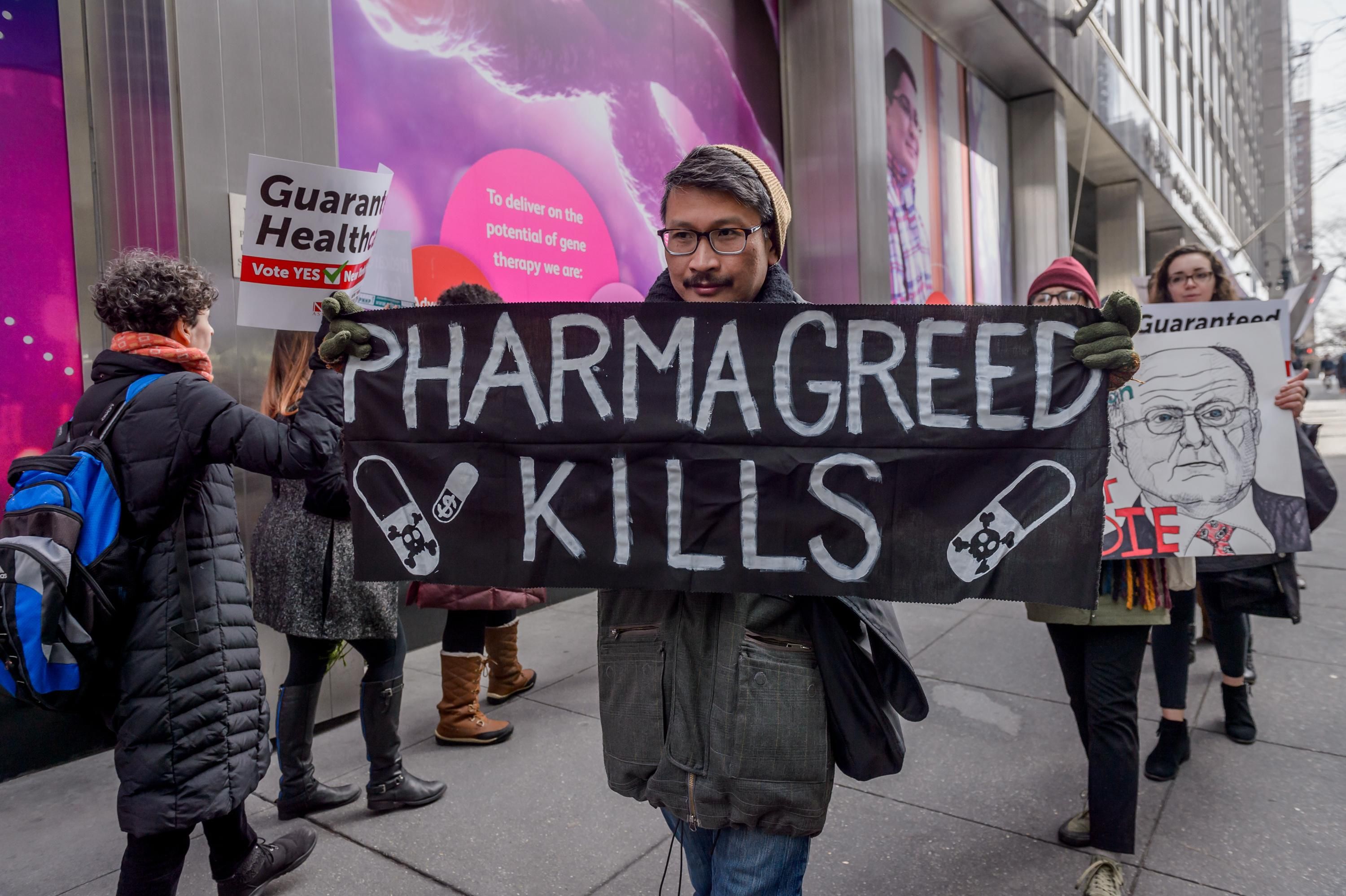 Dozens of patient advocates from across the United States gathered on Monday to demand that Democrats in Congress include drug price reforms – including allowing Medicare to negotiate prescription rates – in the Build Back Better package.
"It's time for Congress to keep its promise to lower drug prices and let Medicare negotiate."
—Lauren Stanford, P4ADNow
In a letter to House Speaker Nancy Pelosi (D-Calif.) – which was also sent to other congressional leaders and President Joe Biden – 160 advocates for Patients for Affordable Drugs Now (P4ADNow) have detailed the urgent need of the population nationwide.
"Too many of us find it difficult to pay prices almost four times the prices paid by patients in other wealthy countries for the exact same brand name drugs," the letter said. "Almost 40% of Americans struggle to pay for their prescription drugs, and more than 20% have had to take on debt or file for bankruptcy because of drug prices in the past year."
"We are grateful for the innovative drugs that help manage our conditions and improve our health," the letter continues. "But these statistics demonstrate our lived reality and force us all to face one basic fact: Drugs don't work if people can't afford them."
Lauren Stanford, a diabetic patient and director of the P4ADNow community organization, acknowledged that "momentum is building in Congress to pass drug pricing legislation," but called on lawmakers to actually deliver the broad package that drugs are needed. Democratic leaders hope to send to President Joe Biden's office alongside a bipartisan. bill on infrastructure.
"Patients have waited too long," Stanford said. "It's time for Congress to keep its promise to lower drug prices and let Medicare negotiate."
The advocates' letter states that "we are convinced that the inclusion of comprehensive drug price reforms in the reconciliation package will lower prices, save lives and ensure the continued development of new innovative drugs."
"The provisions under review will bring relief to Americans," the letter explains, "by allowing Medicare to negotiate directly with drug companies for lower prices, capping annual out-of-pocket spending for Medicare's prescription drug program and halting the rise in the price of pharmaceuticals, penalizing above-inflation price increases in the private and public sectors.
Although Democrats' use of the budget reconciliation process for the package – which could be worth as much as $ 3.5 trillion – means they don't need Republican support to pass it, supporters of drug price reform are still concerned about opposition from Big Pharma and some right-wing Democratic lawmakers.
As the letter explains:
The pharmaceutical industry wants us to believe that we have to choose: let the pharmaceutical companies have unlimited pricing power or say goodbye to innovative new drugs. But it is a false choice. Countless analyzes have shown that it is possible to restore balance and obtain affordable drugs without sacrificing true innovation. A medicare negotiation that pays the best prices for the best drugs would reward clinically significant new drugs and in fact spur investment in innovation. The Build Back Better Act is complemented by the President's Budget, which would invest more funds in the National Institutes of Health to stimulate further research. In addition, it is essential to remember that many patients cannot afford the drugs they need today. Up to 1.1 million Americans will die in the next decade because they cannot afford the drugs they need.
Progressive lawmakers who threaten to block the bipartisan bill later this week unless Democrats push forward Biden's full agenda have also stressed the need for drug price reforms.
In an opinion piece for CNN On Monday, Reps Pramila Jayapal (D-Wash.), Ilhan Omar (D-Minn.) And Katie Porter (D-Calif.) Explained why they, as leaders of the Congressional Progressive Caucus (CPC), "remain engaged to vote for the infrastructure bill only after the passage of the Build Back Better Act. "
"We hear remarkable consistency in the concerns of our communities," the lawmakers wrote. Among them, "people cannot afford the prescription drugs they need", meaning they are "forced to ration drugs to stay alive".
Jayapal, the chairman of the CCP, said The Washington Post Sunday that "about 60" Democrats are ready to make the bipartisan deal unless the larger package is passed.
"Passing the Build Back Better Act will require standing up to powerful vested interests," the trio noted. "The investments he makes to improve our economy are paid for by forcing billionaires and big business to pay their fair share of taxes; urging the big pharmaceutical companies to negotiate drug prices; and by attacking the fossil fuel lobby to fight the climate crisis. "
Senate Budget Committee Chairman Bernie Sanders (I-Vt.), A supporter of drug price reforms and the House Democrats' threat to pass the two bills, echoed the message on Twitter:
Earlier this month, like Common dreams reported, Sanders called three Democrats from the House Energy and Commerce Committee who voted against a proposal to let Medicare negotiate prescription drug prices directly with drug companies.
"I understand that the pharmaceutical industry owns the Republican Party and that no Republican voted for this bill," Sanders said, "but there is no excuse that every Democrat does not support it." .