Muslim group helps pack relief supplies for residents of Laoag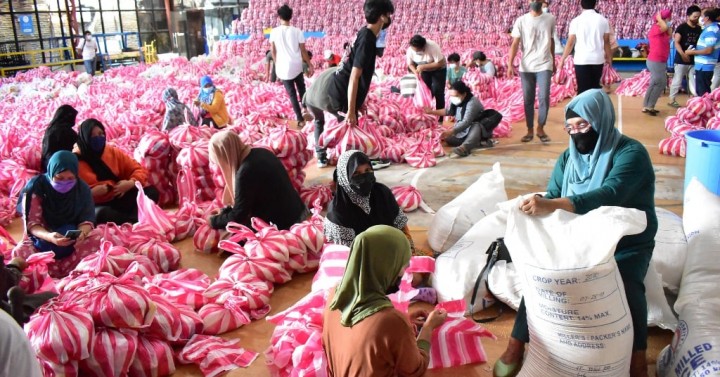 CITY OF LAOAG – Members of the United Muslim Association of Ilocos Norte (INUMA) who live in a tight-knit compound in Barangay 1 here volunteered to repack hundreds of relief items to distribute to families in Ilocano affected by the localized enhanced community quarantine.
"The inhabitants of INUMA have come together voluntarily because it is natural for Muslims to show fraternity. This is our simple way of expressing our support for our Ilokano brothers in times of storms and trials, "said Ismael Ampaso Macasasa Ali, President of INUMA and business owner at Robinsons Place Ilocos.
On Wednesday, the city's Social Welfare and Development Office headed by the city's social welfare officer, Perlita Cabello, began distributing food packages to affected families in 30 of the city's 80 barangays.
"The barangays which have the highest number of cases of Covid-19 (2019 coronavirus disease) will be the first to receive aid, followed by the other barangays in the following days," said city mayor Michael M. Keon as he expressed his deep gratitude to the officials and members of INUMA for their spirit of volunteerism to accelerate the repackaging of relief.
INUMA has maintained close cooperation with city and provincial governments, with various charitable programs and partnerships, especially in education, health and environment, as well as peace and order, among others.
Most recently, the Muslim community here started their own communal farm where the provincial government provided them with seeds and agricultural equipment, including technical support to support their agricultural livelihoods.
Keon said anything is possible if everyone is united. According to the CSWDO, the beneficiaries of the initial relief deployment are destitute families who belong to the larger group Listahanan and Pantawid Pamilyang Pilipino Program (4P) as they need immediate assistance due to the current implementation of localized enhanced community quarantine.
As of August 1, the city has been under the country's strictest quarantine for two weeks or until August 15 due to a spike in Covid-19 cases.
As of August 10, the City Health Office had registered 1,156 active cases out of a total of 3,438 cases, 2,229 recoveries and 53 deaths.
Currently, village checkpoints are set up at strategic locations with men in uniform to regulate the movement of people entering and leaving the city.
Philippine National Police personnel have also heightened the apprehension of violators of quarantine protocols such as not wearing face masks as well as failing to adhere to curfew times from 9 p.m. to 4 a.m.
Meanwhile, the city's public and private hospitals are also swarming with patients with respiratory illnesses, prompting some urgent patients to take risks outside emergency rooms, waiting their turn to be examined.
The city government has urged the public to stay at home and only go out to buy food, medicine and other essentials. (ANP)